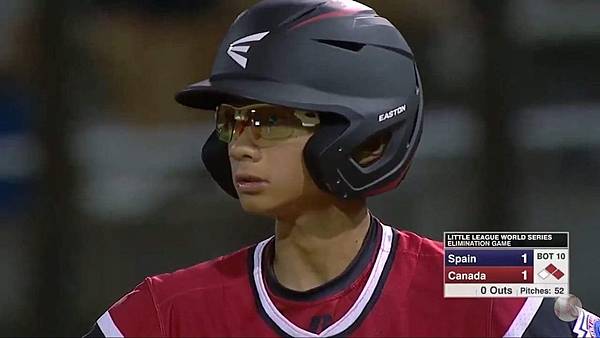 13歲的 Ian Huang 黃上恩,小小的年紀就在加拿大的少棒隊有很棒的成績,但他很謙卑,也把他的成就歸榮耀給 上帝。 神用了一個四歲時得怪病 Kawasaki disease 的男孩,成為加拿大第一選手。他在前年 2017 年的2 月受洗成為基督徒,以下是他當時分享的見證:
Hi, my name is Ian and I was born on May 15 2005 at the Vancouver children's hospital. I have three other family members and my grandma currently lives with me.
When I was growing up I used to love to play sports, especially golf, basketball, and baseball. My Dad used to take me to a lot of places to play sports and ever since then I became really into it. I was also very talkative unlike me now. I used to love to sing in front of everyone in church and talk a lot. But all that was about to change. When I was four years old my parents started noticing that my neck was a little swollen. They quickly took me to the doctor and they quickly gave me a checkup. They said it was only a cold and it was nothing to worry about. But after a long time the swelling kept on getting worse! The whole church was desperately praying for me. While I was at the hospital, a doctor's team wasn't sure that if I had a disease called kawasaki. Because of the church's prayer, the doctors quickly found out about my disease and they quickly made a treatment for my kawasaki. If not for the quick diagnosis and treatment than it would of had made plenty of damage to my heart and the function. That would mean never returning again to my beloved sports. Thanks to God, he healed me of my disease and his grace was with me throughout that time of pain. Psalms 34:20 says For the Lord protects the bones of the righteous; not one of them is broken! God was with me through this and if you pray and ask Him for help he will also be with you even through your hard times. God also gave wisdom to the doctors that were helping me to quickly get the medicine and heal me. The doctors themselves were amazing too, without them I wouldn't of gotten anywhere close to a cure.
Of course that was a big miracle, but I didn't understand God and didn't know much about him since I was so little. I thought well, good for me, I was healed from a life threatening disease. But it was later on in life that God really came into my heart and my desire to get baptized.My life after that was basically normal and I didn't really have anything major happen to me. When I was around 5-8 years old I was regularly attending church with my family but I didn't really know what I was worshiping about. I went to sunday school I was just having fun and I was there just to get entertained or be entertaining. I didn't really get or listen to what the sunday school teacher was saying. I didn't get how worshiping Jesus was impactful. At our school we would have chapel time regularly and some of my classmates and I would even laugh to ourselves of the people who were worshiping with much sincerity.
It was when I was around 10 years old that Christ really came into my heart. I began to mature and understand God's will and his plan. That was when I started praying every day and reading his word. I had an idea of what God's plan was for me in the future and what he was going to do to use me. It started one day in worship at sunday school, I was really touched by the Lord's presence and from then on I began to realize who Jesus was.
When I was 10 to where I am right now might favourite sport of baseball got intense too. We were more competitive and we cared more about winning then when we were younger. There are also lots of baseball tournaments that I have to attend and the pressure was really on. But once I begin praying God's voice would always keep me calm in all situations and he gave me the confidence for the game. Sometimes I wouldn't do as well and that has a purpose too. Sometimes I would be too prideful and look down other people and they would always end up beating me. There are also times that God wants me to learn what it feels like to lose. Losing is very hard sometimes, but if you get an experience on losing the second time you lose, you won't feel so bad. Losing can also give you an advice on what to do better next time or to improve on what you did wrong. I think it is all according to the God that he either lets me win or lose it is all according to his plan.
Praying around this time of age is kind of hard. I've got all these things swirling around my mind that I just can't stop thinking about at my designated time to pray which is at night right before I go to bed. Honestly even the times I prayed I didn't have to the heart of sincerity and I would often rush through the prayer and start thinking about my things again. I knew prayer was really important but I just couldn't get my thoughts out of my mind. It was a year later that I started praying regularly with no hesitation. It began when baseball got a lot more competitive and more and more games keep popping up and the pressure was almost unbearable. Praying was the only choice I had to overcome the wall. No matter the result I would always thank God because he has given me peace and comfort throughout the situations. I admit that sometimes I wonder if God heard my prayer because the game didn't go my way, but God would always remind me that His plans are always better, even if we can't feel His presence. Have you ever feel like not giving a tithe? Well, you're not alone, I used to hate to give tithes until one day, it all changed. It was a Sunday and I had tryouts to make the U12 Whalley all-star team. I was 11 and went to tryouts, and the coach said that he would give a phone call to the person who made the team. Then as I came to church, my Mom told me to give a tithe to the Lord because I got some money yesterday. I really didn't want to give because I had a lot of things in mind to spend it. But after thinking for awhile I decided to give up the money, right then I got a phone call from the coach saying that I made the team! I was so glad that I gave up the money, because instead of money I got to make the team. God is always looking to give you blessings, and even if you give a tithe and God didn't do any miraculous things in your sight, I promise that you're treasures in heaven are building up.
Now at this age, I would often compare myself to a non-christian person and I would always try to see the difference, at first I thought that we were all human being and that we live the same, but later on I found out that, yes we go through rough times just like the non-believers and yes we often have struggles in our lives. But God is willing to help us get through the situation and he will eventually give you the reasoning behind all that, you just need to wait upon the Lord. I would often put myself in a non-believer's shoe. And I think wow! Without God and His guidance, I would've broken down hard without His help. If you are in here and are thinking that being a christian is just obeying random rules from an imaginary person in the sky and getting forced to pray and pray and pray, you're thinking the wrong way. God puts these rules in the Bible to protect us and not to harm us, and following God just makes you enjoy your life even more because God will give you hope and peace the fill you through your day, and being a christian doesn't mean that you can't do anything fun, it just means you have to use more caution on what you play with or the music you listen to. One of my favourite Bible verses is Romans 15:13 and it ways "May the God of hope fill you with all joy and peace as you trust in him, so that you may overflow with hope by the power of the Holy Spirit. This is often the verse I turn to when I need help or I'm confused about what God's doing to me at the moment, and it often helps to me that I know that He is the God of hope and he will overflow you with all joy and peace.
You ask, why am I getting baptized? Well, first of all, I want to have a closer relationship with God and I want to be filled with the Holy Spirit. But the key part to my baptism is when my and grandma and I were reading Bible verses on baptism. And while Jesus was talking he says this (John 3:5) "Very truly I tell you, no one can enter the kingdom of God unless they are born of water and the Spirit." Getting born of water is basically getting baptized in the name of Jesus and getting baptized God will fill you and me with the Holy Spirit. Something that popped out to me was that it says "no one can enter the kingdom of heaven without being born of water and the Spirit, which is basically saying that baptism is very important if you plan on having an eternal relationship with God, that is the main reason of why I'm getting baptized today and coming here with the church body, I feel honoured.
Thanks for letting me share my testimony.